Find out about this opportunity at
https://5il.co/12k4t
! In person at the LHS Auditorium or attend virtually!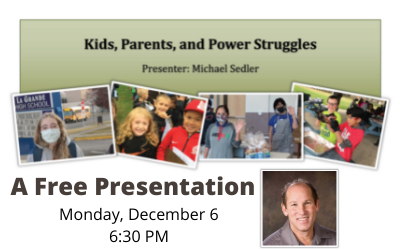 Your donations of cash, food, and gift cards will support the La Grande School District Youth-In-Transition (Houseless) Program.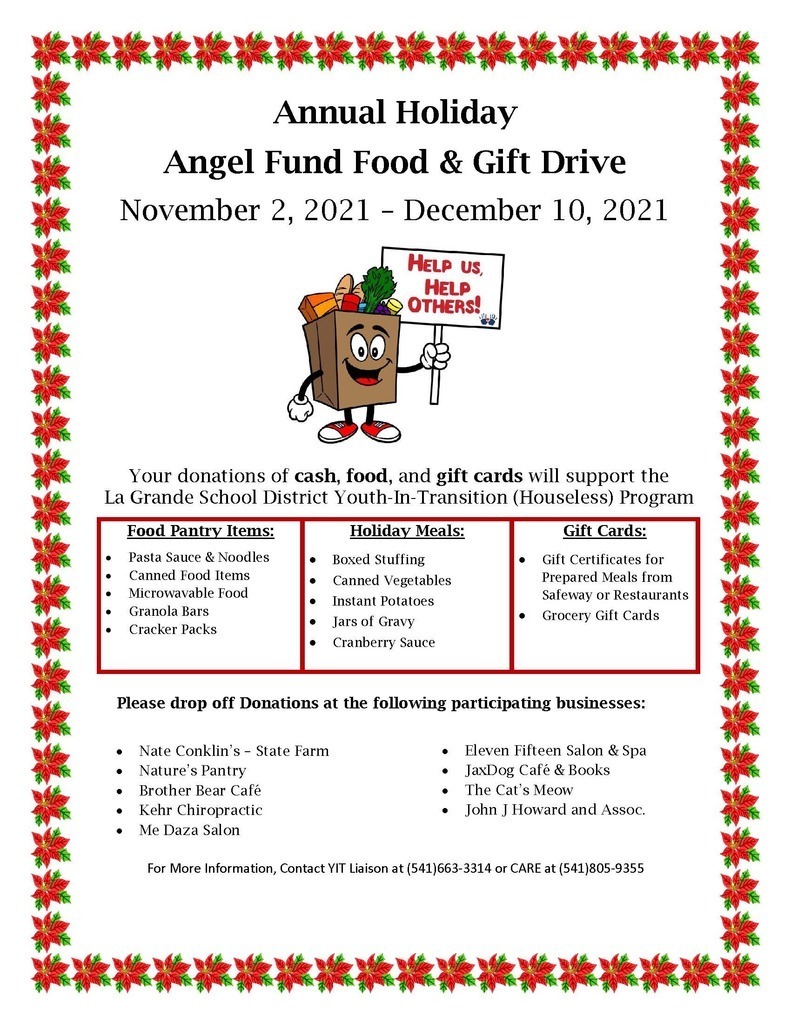 Happy Thanksgiving! The La Grande School District will be closed from November 24th to November 26th. Have a wonderful time. See you back on Monday, November 29th.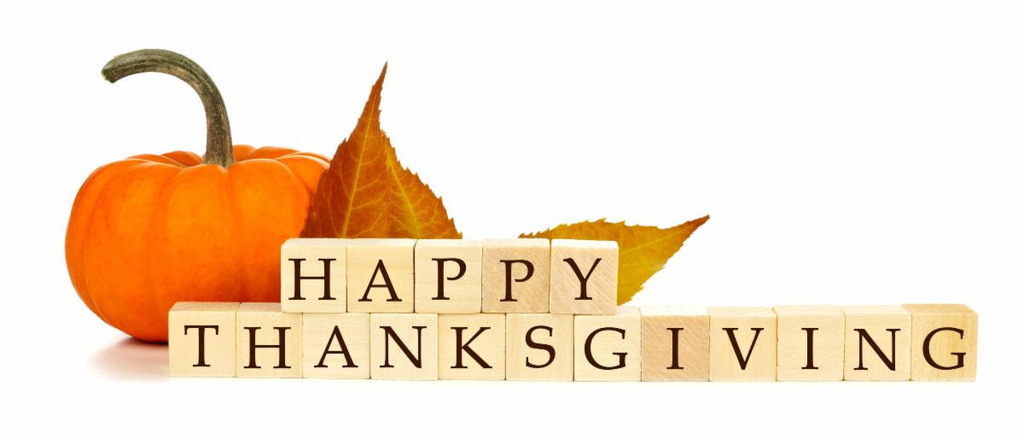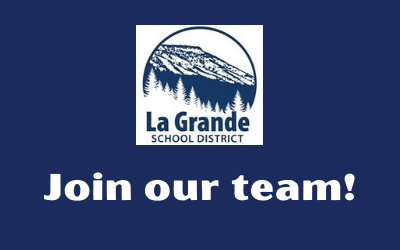 Your donations of cash, food, and gift cards will support the La Grande School District Youth-In-Transition (Homeless) Program. Thank you!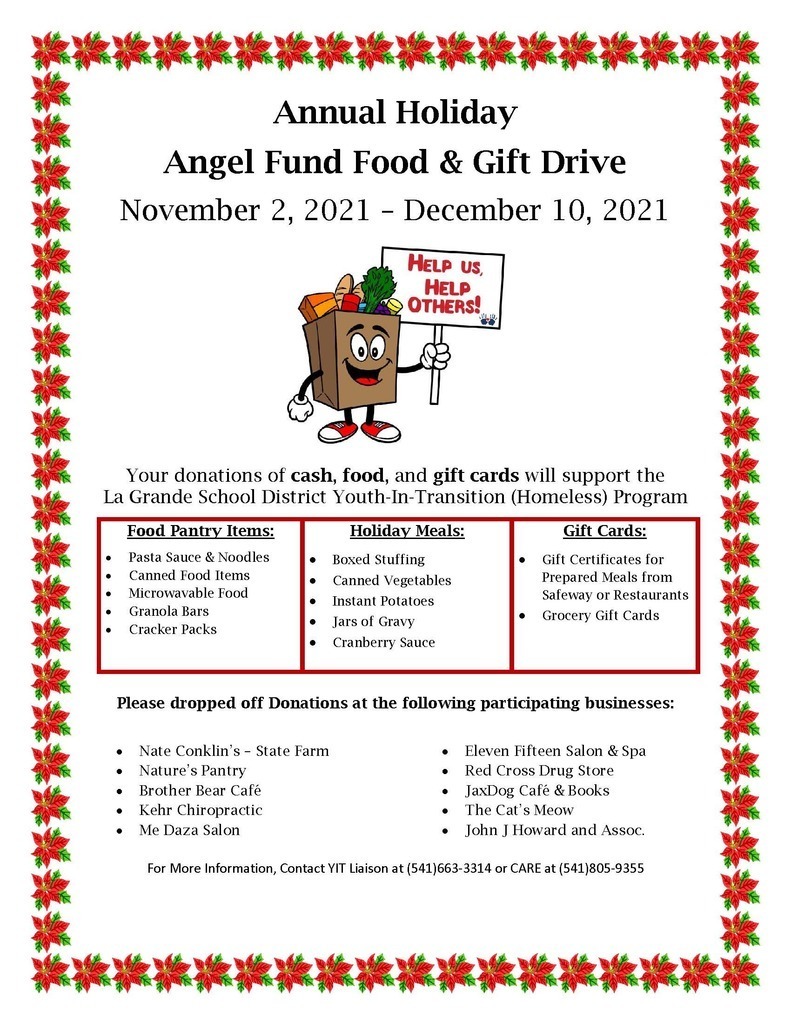 Your donations of cash, food, and gift cards will support the La Grande School District Youth-In-Transition (Houseless) Program.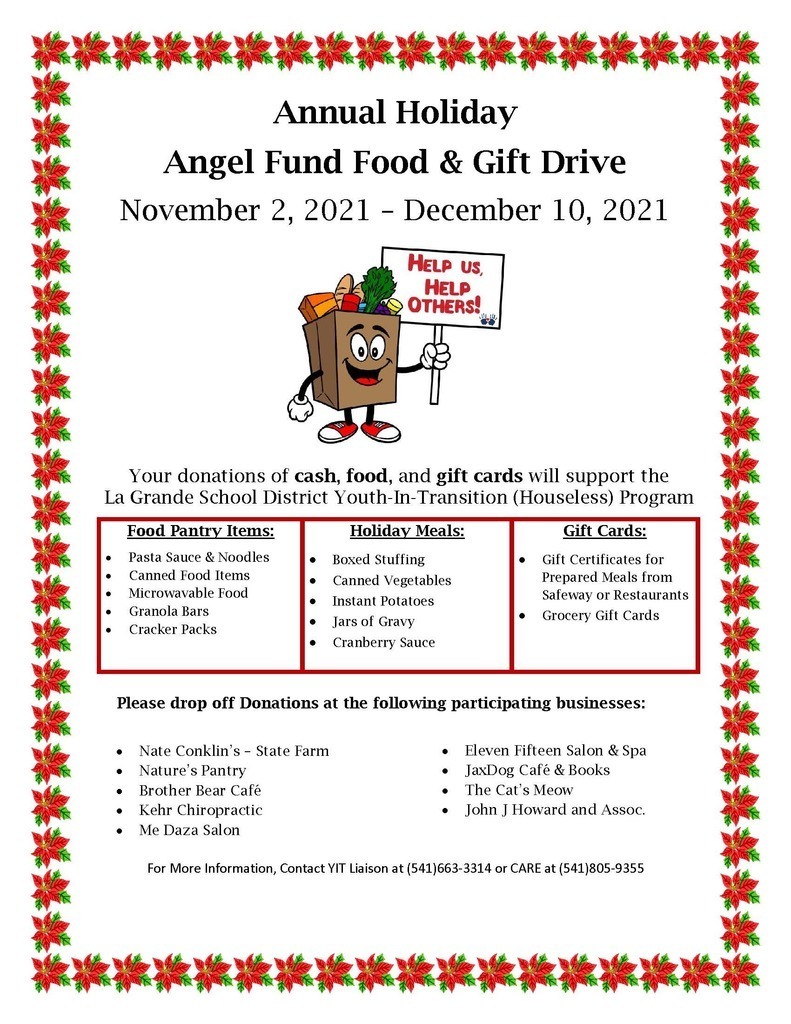 Mark your calendars to decorate cookies with Mrs. Claus!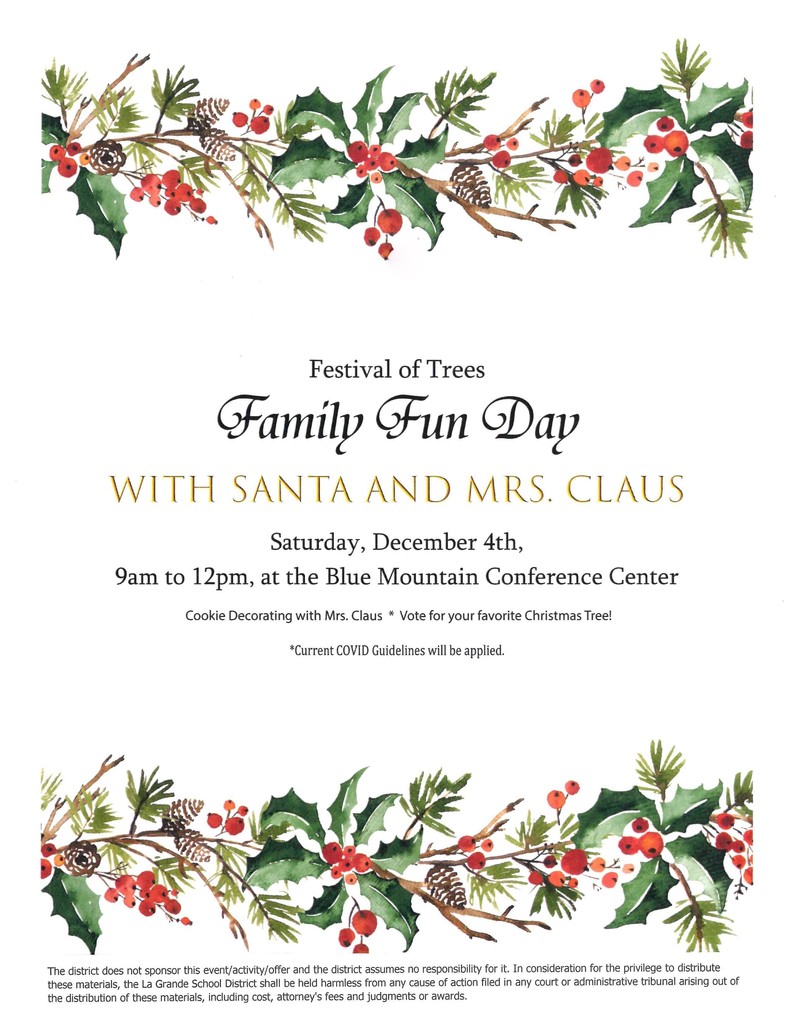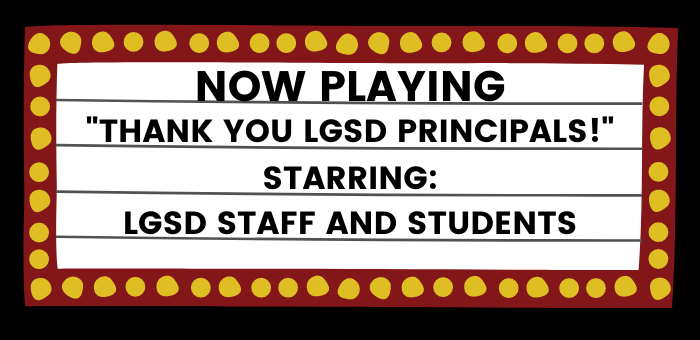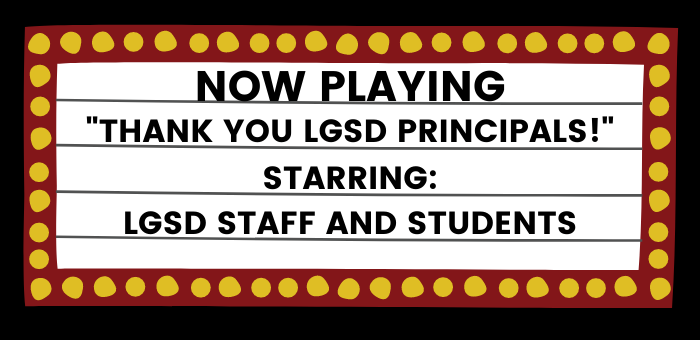 Winter weather is here! Please remember Kinders and 1st grade do not enter the building until 7:50 am, and 2nd-5th do not enter the building until 8:00 am. Wednesday is late start, so students do not arrive until an hour later. If students are arriving earlier than the official drop-off times, please make sure they are dressed warmly. We have coats, hats and mittens if you need winter attire.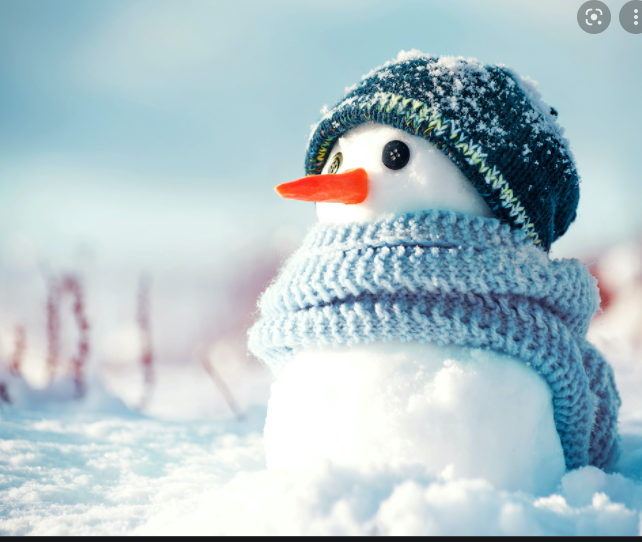 In honor of our veterans, Mrs. Dunlap has created a music video featuring our elementary students and their appreciation for the sacrifices made for them. Thank you for your sacrifices so we can have the freedoms we have today and in our futures❤️
https://youtu.be/i-334MMZRmc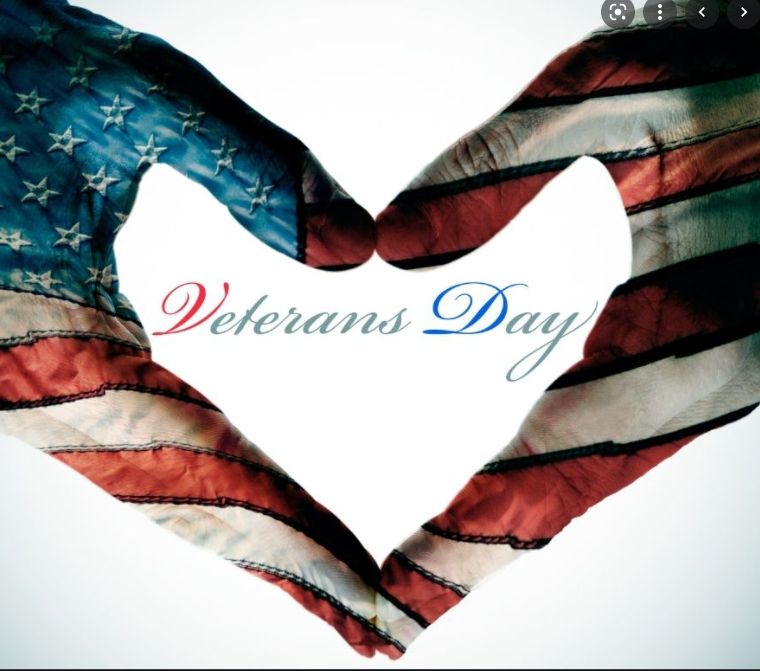 Turn in your child's entry to the office of their school!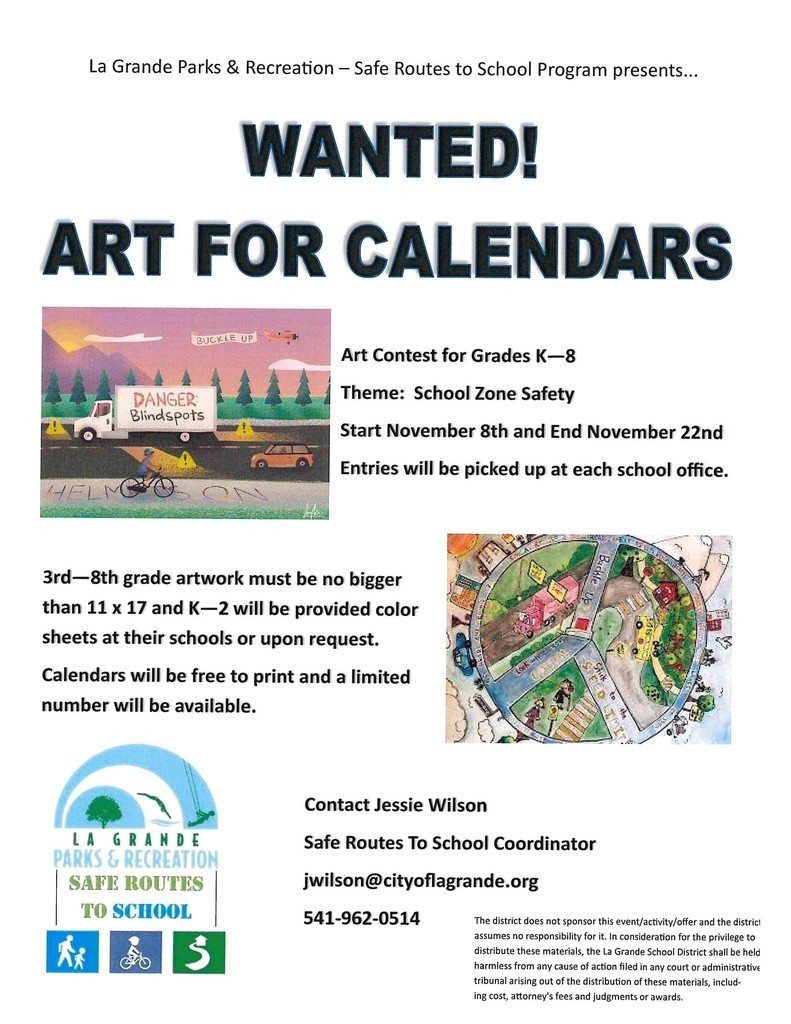 Halloween celebrations at Greenwood included trips to the pumpkin patch, classroom parties and a Halloween parade to show off costumes and happy faces! For the entire photo gallery, please visit Greenwood's Facebook page.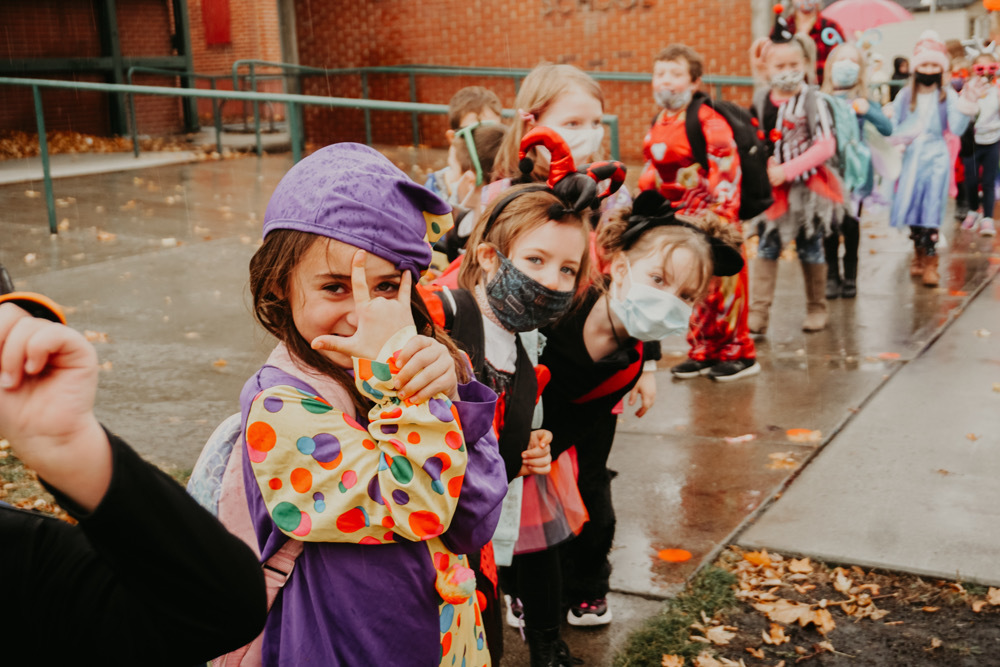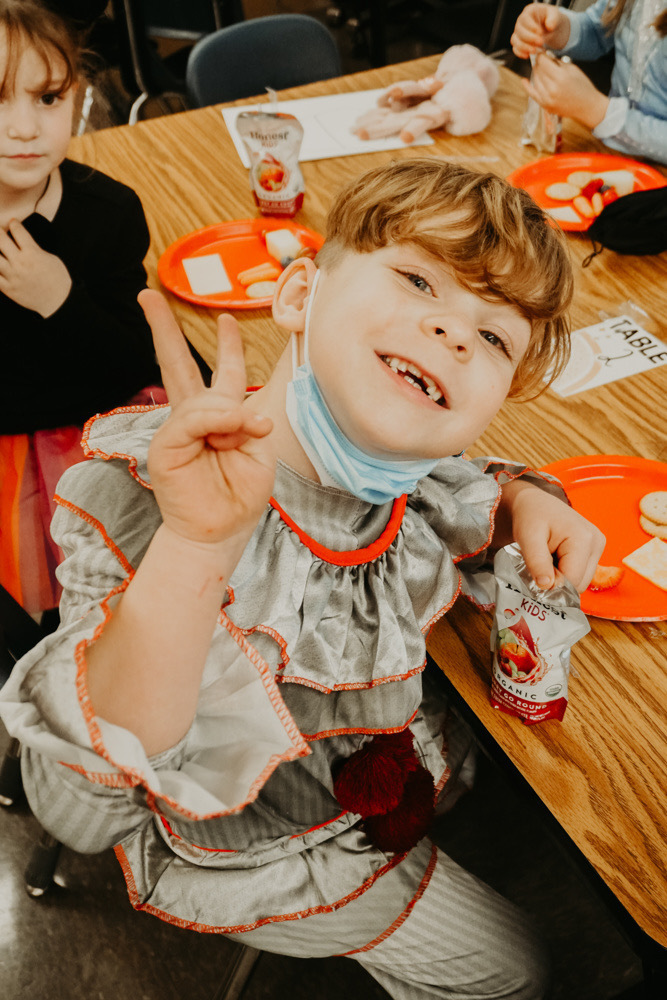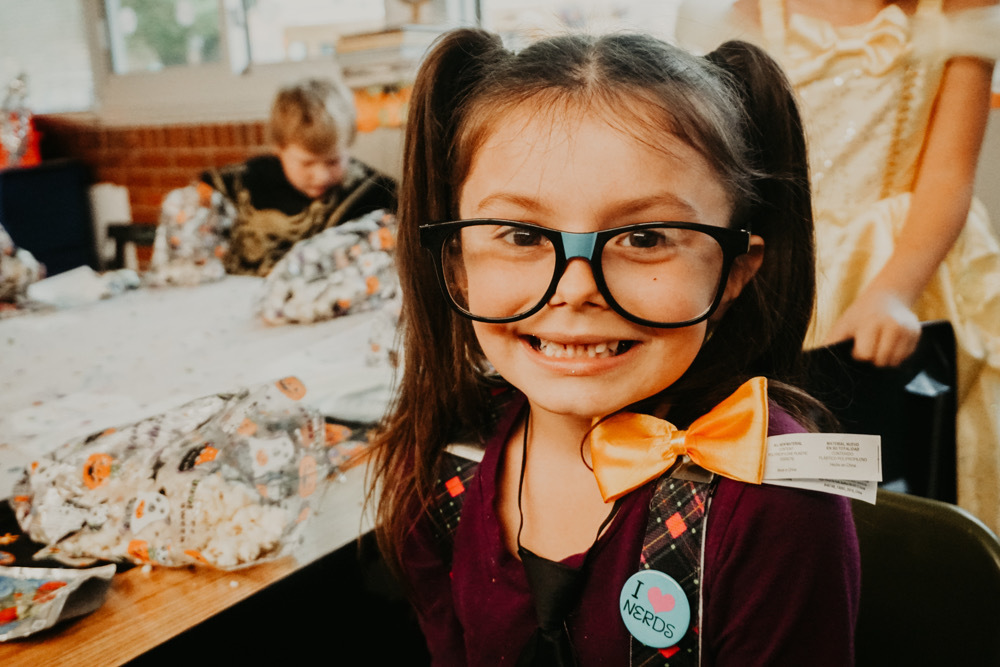 Cook Memorial Library provides free literacy tutoring Tuesday - Thursday weekly from 1:45 - 4:30pm. Here is the Application for Free Tutoring and Scheduled Access to Learning Stations:
https://forms.gle/ujzefuLCBq1KnKPN9
During open hours, all ages are welcome, and Literacy Center services are free of charge. Please drop in to check out our collection of available educational games and materials, and use the Literacy Center's PCs and AWE computer learning stations. Students may stay longer than their scheduled hour. Learning packets are sent home with students for additional learning and practice. Tutors will go over materials to make sure that your student understands. Please feel free to review work on the packets with your student, as repeating helps with comprehension, and students begin using self-correcting techniques while rereading. Students who complete their packets receive prizes during their subsequent tutoring sessions! If you have questions, contact Myra via email:
mbritschgi@cookmemoriallibrary.org
, or phone: 541-962-1339.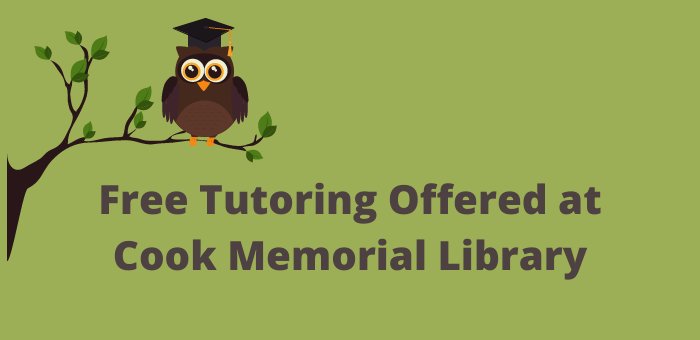 Greenwood Giants, Mrs. Wilcox is hosting a Scholastic Book Fair. There will be pencils and bookmarks, posters and erasers, but best of all, there will be several great books for your child to purchase! Some books will be priced as low as $2! How awesome is that? The book fair begins tomorrow through October 22nd. Your child's class will have the opportunity to come to the book fair during their Library/Media time. I am sorry, but this year we are unable to have families shop in person, although you can order online, and have it shipped directly to you. Moms, Dads, Uncles, Aunts, Grandparents or Guardians. There is a simple and convenient way for your student(s) to purchase from the Book Fair. It is cash free and digital. It is the Scholastic "eWallet" and all you need do is load the amount for your child! That's it. Pretty simple, right? Thank you for supporting the Scholastic Book Fair. Remember all profits go towards buying books for the library.
Halloween is around the corner at Greenwood!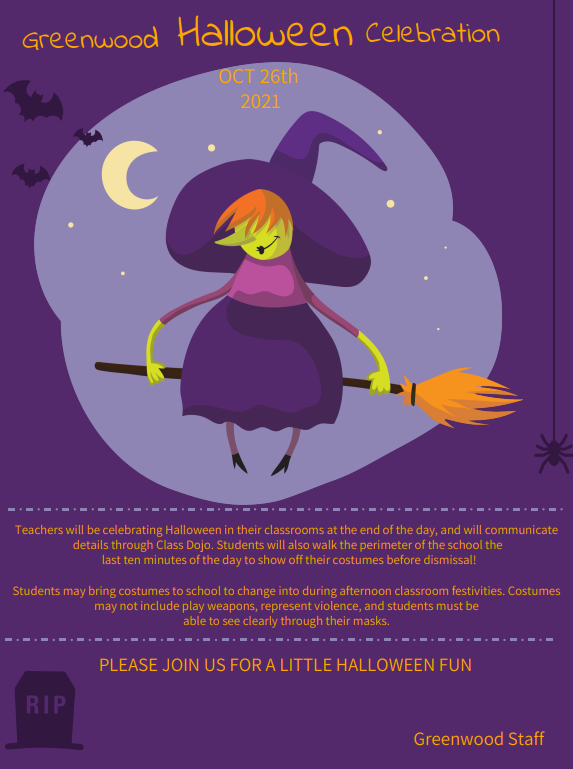 We look forward to seeing students on Monday!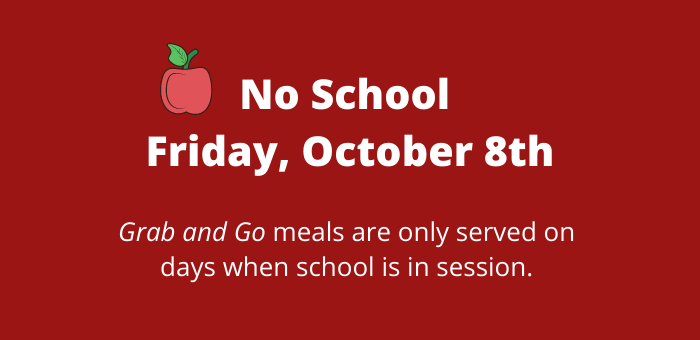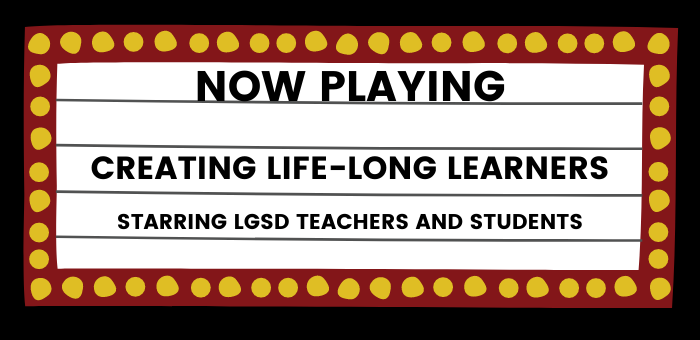 Click here to find out more information about upcoming "Conscious Discipline for Families" virtual courses:
https://5il.co/zrlq